"My father, Dr. Wesley H. Ardoin, was also an orthodontist; being a second-generation orthodontist allows me to hear new stories from my patients' parents about my father's impact on their lives. Those stories inspire me to constantly improve myself, professionally and personally, to continue his legacy.
At Doré Orthodontics, we are an extended family as we support, nurture, and celebrate one another, all while creating lifetimes of a-Doré-ble smiles!"
Education and Experience
Dr. Doré graduated from the University of Louisiana at Lafayette with a degree in Psychology and prerequisites for dental school. She attended Louisiana State University School of Dentistry, where she received her Doctorate of Dental Surgery (DDS) in 1996, graduated at the top of her class, and was elected to the Omicron Kappa Epsilon National Dental Honor Society.
Remaining at LSU, she then undertook a two-year Orthodontics residency in New Orleans, which was completed in 1998.
Orthodontics is an ever-changing specialty, and Dr. Doré strives to remain current on developments that improve comfort, efficiency, and results.
Professional Affiliations and Ongoing Learning
Dr. Doré is a member of the:
American Association of Orthodontists
Southern Association of Orthodontists
American Dental Association
Acadiana District Dental Association
Beyond the Office
"I met my husband when we were 16 years old and both working at a local grocery store: I was a cashier and he was my favorite bag boy! I realized then that he had the heart of a servant, the truest measure of strength. We have been married for over 30 years and he is the manager of Doré Orthodontics.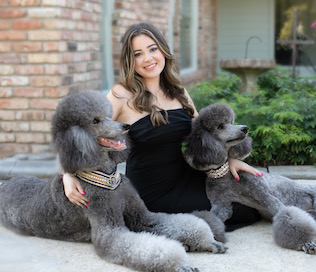 Our daughter, Christine, is in college and planning on a career involving dentistry. I was influenced by Christine, who, during high school, gave speeches throughout the country. She talked about how we can all make a difference in the world, especially kids. Christine calls her ministry "With Jesus, We Can: Philippians 4:13." My WHY for Doré Orthodontics is based on a quote by Saint Teresa of Calcutta, "I alone cannot change the world, but I can cast a stone across the waters to create many ripples." From these things our logo and tag-lines were born; Kindness Begins with a SMILE, Use Your Smile to Change the World, a-DORÉ-ble SMILES Ripple Kindness. In addition to creating beautiful and healthy smiles, we want to empower our patients to know that they can make a difference in the world of others. Click here to read more about our Ripple Kindness program!
To complete our family we have two silver standard poodles, Beaux and GiGi. I also love photography and creating unique arrangements of succulents and charcuterie boards for family and friends!"